Kazuki Takahashi ("Takahashi"):
Today, I'm training to grasp a sense of distance—to see how far a ball will roll by changing the release positions and angles of the ramp. It's pretty low-key practice, so it might bore you. [laughs]
Makio Kashino("Kashino"):
Oh, not at all! [laughs] I see you can change the length of the ramp by the combination of ramp parts.
Yes, in my case, I use four pieces.
And each ball varies in hardness—you have hard ones and soft ones.
The size and weight of balls are specified in the rules, but there're no regulations for the hardness. Hard balls are easier to control since they have a smooth surface. This also means that hard ball will also easily roll away if by an opponent. Soft balls have an undulating surface. They are difficult for the thrower to control, but they are also difficult for the opponent to hit out of its spot. The composition of the balls as well as the choice of balls used in a match is up to each player. Before a match, players can check the balls of their opponents, so it's a part of the strategy to respond to the opponent's choice of balls. Okay, I'll throw a ball now. [Releases a ball using the ramp and asks the sport assistant] How far?
Ball please. [Launches the same ball from a higher position on the ramp]. How far?
[To himself] Hmm, farther than I thought. [Enters numbers on his smartphone]
You're measuring the distance?
The distance will differ each time, even when using the same ball and releasing it from the same spot (on the ramp). The floor material differs at each venue, and the way a ball rolls will also change according to the room temperature and humidity. It's very humid today, so the ball doesn't roll as far as usual.
Ah, so you need to fine-tune things each time. You accomplished the feat of coming in second place in the world championship only two years after starting to play boccia. What do you focus on when you train?
When I first started, I did nothing but hammer the rolling distance of each ball into my head. Through repeated basic practice, like I'm doing today, you train yourself to be able to throw a ball to wherever you want under any environment. It sounds easy, but it's actually very difficult. Strategy is also important, of course, but I never skip basic practice.
Do you have a personal baseline for each type of ball— that is, in terms of estimated distance?
Yes, I do. I usually have a rough idea before throwing, like, 'it'll roll 20 cm farther than usual,' but what's tricky is that each ball behaves differently. This ball may roll 20 cm farther today but another ball may roll only 10 cm farther.
When we toss, say, a crumpled piece of paper into a dust bin, we unconsciously adjust the throw by making a rough estimate of the distance. But, I assume that throwing using a ramp might help improve the accuracy of the estimate. Do you think there's still an area that can't be measured using numbers? And if so, what do you think it is?
The skill to hit an opponent's ball out is something that is acquired only through repeated practice. Even if you could throw a ball precisely to where you intend, you also have to make adjustments depending on the hardness of the opponent's ball. Only skilled players can instinctively tell how a ball will roll and hit others out.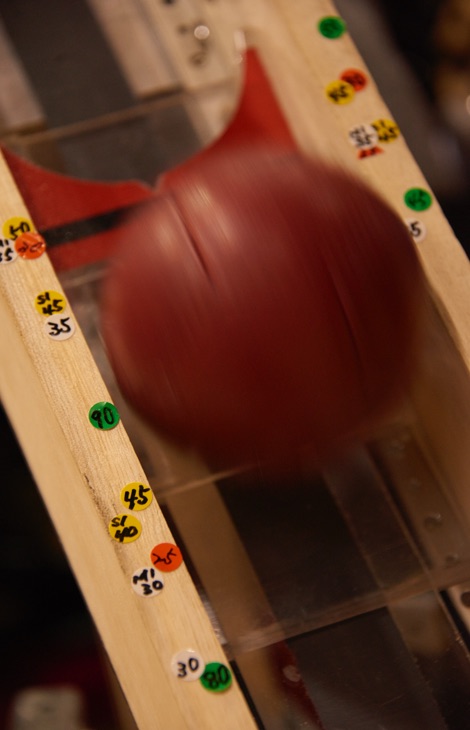 Let me demonstrate how a 1-on-1 match progresses. The player going first throws the white jack ball. His opponent has to throw a ball nearest to the jack to win the end. Each player has a six-minute throwing time-limit per game. If his time expires, all his remaining balls are removed from the field. (and placed in the dead ball designated area).
What is a strategically good spot to throw the jack?
It depends on the characteristics of the opponent. If you throw a jack ball far, it will be more difficult to control the placement of the next one, so it adds an element of luck to the mix. Meanwhile, if you throw a jack nearby, a player's skill will matter greatly because the balls will be easier to maneuver. South Korea is strong in the BC3 class, and strong players just throw the jack nearby. In an effort to win against South Korea, European players often intentionally throw the jack far, sometimes even nine meters away and almost at the edge of the court.
All right, I'll throw the jack ball now. This one. [Indicating a ramp of a specific length to his assistant with his eyes] To the right…right… left… right… slightly more to the left… a bit to the right. [The assistant adjusts the position of the ramp.] Yes, okay. [Releases the jack on the ramp.]
The same player who threw the jack now throws the next ball. This time, it's the red ball. If you're playing by the book, you'll throw it right next to the jack. [Releases a red ball on the ramp.]
Amazing! You got it touching the jack.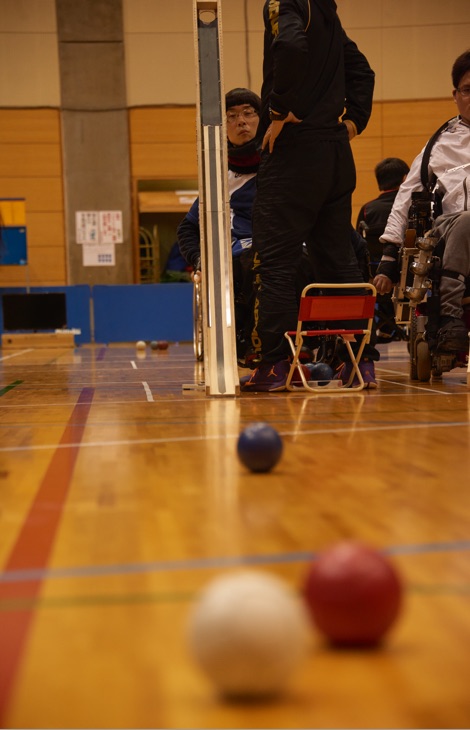 Now, it's the blue ball's turn. [Releases a blue ball on the ramp.] After each side has thrown a ball of their own color, the player whose ball is farther from the jack will throw next.
In other words, there's a possibility that you will have to keep throwing if you can't get your balls closer to the jack than your opponent.
Exactly. But, there's also a tactic in which you don't throw your ball closer to the jack on purpose so that you can keep on throwing. I'm trying for a playing style of striking the jack ball itself. You see, red has the advantage right now. But, if I hit the jack and move it farther back, the blue is now suddenly at an advantage.
Oh, I see. Instead of bringing your own ball closest to the jack, you move the target ball to your advantage. It's an aggressive style.
Yes, it is. This tactic works when I'm playing well, but it can also result in a huge loss. My challenge right now is how I can prevent giving the opponent an advantage when I switch to playing defensively. World-leading players play using a strategy where they'll win the game after using all 6 balls. In fact, when I see them throwing their first ball, I sometimes wonder, "Why did he throw the ball there?" "Was that a misthrow?" But then, it turns out that it was a precisely executed tactical move mad in preparation of the third throw that follows. That's the kind of boccia I want to play. What was your impression on seeing boccia for the first time?
I was surprised that there seems to be a greater degree of freedom in the game than I had thought. I had wondered how individual differences in technique could possibly affect a game if you are rolling a ball from the ramp. But now, I see that it requires an enormous amount of skill. I think it's very similar to the pitch in baseball. Unlike football or rugby, you have to throw the ball to a designated place, and start the process all over again with each pitch. You also need to assess the reaction of the opponent. Moreover, the game is greatly affected by the environment. Subtle details, such as the hardness of a pitcher's mound and the size of a stadium, affect a pitch. A talented pitcher is sensitive to even the slightest of differences in the environment, and they have the ability to adjust their pitches accordingly. I found boccia to be a more accessible sport than I'd imagined.
When I first saw boccia, I thought it was just as simple game like marbles. Because I used to be a judo athlete, I used to believe that engaging in a sport meant building up your physical strength or moving your body. But once I started boccia, I kept losing to players with much more severe impairments than me. Some players in the BC3 class have speech disorders, and most people would never imagine that they would be able to play sports. But they are capable of fabulous plays and compete actively on the global stage. The more I wondered how I could get better and win, the more I got hooked.
In regard to the physical, mental and technical training related to sports, our research places particular focus on the mental and technical elements. For example, I started playing baseball past the age of 40, when my physical functions were basically on the decline. But does that mean that we can't get better at a sport once we are past our physical prime? That's the theme of our research. Many people believe that sports are about building your muscles or strengthening your cardiopulmonary functions. In boccia, players can use ramps and give instructions to assistants, so you could say that they are "extending" their physical capabilities.
That's right. Those of us in BC3 class are unable to move or control physical movement. have very good communication with our sport assistant. We can't win a match unless all of these external elements are brought together and work in harmony.
So, in other words, the environment, tools and even the opponent can work as an extension of your body in boccia—like part of your musculoskeletal system.
In baseball, for example, only a few pitchers can continue to play that position when they go professional. What is the difference between those who can continue to pitch and those who cannot? I asked this question to Masumi Kuwata, who is a friend of mine and a former pitcher of the Yomiuri Giants. He said the difference is in whether maximum use can be made of the slope of a pitcher's mound. He said that anyone can throw a good ball on level ground, "but, to become a professional pitcher, you need to use even the characteristics of a mound to your advantage and make that ability a part of your own skill set."
That's exactly how it is in boccia. Results will be significantly different depending on whether or not you can incorporate your environment and adjust to it. In Rio, I realized how poorly I adapted to the environment. I was confused by the uneven floors and the unfamiliar atmosphere. Top players in Rio were able to grasp the characteristics of each court and throw the balls to where they intended regardless of the condition of the floor.
Some people says that Mongolian sumo wrestlers and professional baseball players from Latin America can play fabulously because when they were growing up, they carried heavy buckets filled with milk or water over uneven terrain, or practiced in a badly maintained environment where anything unexpected could happen. Harsh conditions can develop the ability to control our bodies in an exact fashion even under unstable circumstances. It's like the development of voice recognition systems for smartphones. If it learns to recognize only clearly spoken speech, it can't recognize speech in a noisy background. Learning with noise as a part of the picture leads to the acquisition of adaptability.
There are many things that we can learn only through experience. I was originally aiming to become a judo champion in Japan, so I think a strength that I have over others (when I'm playing boccia) is the ability to prepare myself mentally for a match. But, I learned in Rio that my method doesn't always work in international matches.
What's different about people who are strong at the global level?
The players who were relaxed before the game were very strong players. I was in Rio de Janeiro for 18 days during the Paralympic Games, but I had already started mentally preparing for it through imagery training on the flight there. I also reminded myself that I was there to win, so I didn't take part in any of the fun going on at the Paralympic Village. The thing is, the actual venue was different from what I'd imagined, and the matches weren't going the way I wanted either. Above all, I was nervous the whole time, so my concentration was lower than usual, and I was physically exhausted as well. I realized that my method worked in domestic tournaments that only lasted one or two days, but didn't work in an international tournament where I was on site for 18 days.
How do things like mental strain and physical fatigue affect your play? In the case of physically active sports, your body might get tense, making it difficult for an athlete to exhibit full performance.
One thing was that I got tunnel-vision.
Tunnel-vision? That's interesting.
Usually, I come up with multiple options, such as where to throw the ball, if I'd use two throws to get close to the jack, or if I'd move the jack ball. But, when you get tunnel-vision, all you can think about is throwing a ball as close to the jack as possible. I always remember the position of my first throw, and I calibrate the rest of the throws based on that, like, "Next time, I'll throw from a bit higher." But in Rio, I couldn't remember it at all.
Was that due to nervousness?
It was more likely about being unable to adapt to the environment. While most of the boccia venues in Japan are very quiet, the spectators in Rio were pretty excited, especially the groups cheering for the Brazilian team. They were even doing the wave in the stands during the match! [Laughs] It was a noisy environment, and it was hard for the assistant to hear a player's instructions, so I worried whether my instructions were getting through, and I ended up checking many times. That annoyed me a lot because we have the 6-minute limit. My routine really fell apart.
The routine is, in effect, the calibration. If you can't calibrate a measuring instrument, you can't figure out where the "zero" is. So, I guess it's not the noise itself to be blamed. I'd imagine if you have adaptability to the environment, noise is something that could be overcome.
I am really grateful for the experience of the Rio Paralympics. I hope that spectators at the boccia venue in the Tokyo Paralympics will be just as spirited. The highlights of watching of a spectator sport are the plays and performances of the athletes, and the cheers of the crowds. I don't want to say, "Be quiet because I can't concentrate." Boccia is, in itself, a low-keyed sport. If it stays the way it is (here in Japan), then only the people who know a lot about boccia will come to see it. It would be wonderful if we see people getting excited at boccia venues, with cheering styles developed as well.
You mentioned earlier that your options become fewer when you get nervous. What about your visual field, in a literal sense? For example, are you focused on something particular in a situation, or do you have a broad view of the court?
It's a broad view. I look of everything on the court—the balls in the playing area, the balls remaining for the opponent, the moment that the opponent throws a ball, and even the referee.
Martial arts masters all say that they may look vaguely at the whole picture without focusing or moving their eyes. In the Japanese martial art of kendo, there's a term that literally translates as "looking at a faraway mountain." It means that one should look at his opponent as if looking at a distant mountain. Pro boxer Naoya Inoue once said, "My eyes are fixed vaguely on my opponent's eyes, but I actually sense the overall movement of my opponent with the whole of my field of vision." In other words, for highly-skilled athletes, it is not about focusing on any one thing but dispersing his awareness.
I wish I could be like those masters. There are boccia players who won't look at their opponent throwing so that they can stay relaxed. On the other hand, I watch the whole time, because I want to see the correlation between the kinds of balls they use and the hit distance.
The stronger players tend to observe their opponents more. By the way, do you ever get the same kind of feeling in your daily life as you do when playing boccia?
I live with the assistance of caretakers, so you could say that my daily life is like boccia. In boccia, I communicate my intention to a sport assistant to throw a ball to where I want. It's the same in my daily life. I tell a caretaker what I want to do, and they take appropriate action in my place. Depending on the way I communicate something or the order in which I say things, the task may take more time than necessary or end up being inefficient. What is more, I have more than 10 caretakers, and each of them has their idiosyncrasies—some move slowly, some are meticulous and so on. So, it becomes a matter of how well I know their quirks or what motivates them, and adjust the way I communicate. It's very much like boccia where I make adjustments according to the venue environment and choose which ball to use.
In talking with you today, I got an impression that one of the big characteristics and appeal of boccia are in the diversity of the balls. In other sports, the ball used in competition is standardized to a specific size and weight. But in boccia, there's the freedom to choose balls, which broadens the range of strategies.
If the balls had been specified by regulation, boccia would have become a sport favorable to those with much lighter impairments. In boccia, there can be a million strategies according to the degree of impairment because you can choose the balls. The gold medalist in Rio had cerebral palsy (CP) as well as a severe speech disorder. When they are fatigued, players with CP tend to tilt and they can also have a hard time getting a sense of distance. But, they can bend their torso forward, which is something I can't do due to my impairment. Boccia is a sport in which you can compensate for your impairment by ball choice. Another appeal about boccia is that miracle throws can happen—the balls can move in a way that you never imagined.
Indeed. Dramatic things that are outside our control can happen. And players can move the target—the jack ball. So, there are elements of creativity and uncertainty that make it possible to turn the tables with a single throw.
As I continued to play, I got the feeling that it is like a sport handicap for leveling the field. Even the things you think of as a disadvantage can become an advantage once you move the jack. One unexpected miracle throw can create a big chance. An impairment doesn't necessarily mean a disadvantage in this game.
After listening to you, I feel that there should be more technologies supporting boccia. For example, data analysis can help you understand the movement of balls better, and certain technologies might facilitate practice methods. Please feel free to let me know if there are any ways in which we can be of assistance.
Thank you so much! Maybe we can become stronger in boccia with the help of science, as Japan heads toward the Tokyo 2020 Paralympic Games.