Takuro YAMADA
Swimming
Photographs by Mika NINAGAWA │ Styling by Yohei USAMI │ Make Up by Kenichi YAGUCHI │ Interview & Text by Senichi ZOSHIGAYA Cooperation by Rick Owens, YOHJI YAMAMOTO, JULIUS, amanaphotography KAIGAN-STUDIO
There is No Answer for Us

Beyond My Struggles and Training in the Able-Bodied World
"No need to be too polite."
When I say this at the start of the interview, Takuro Yamada smiles a bit, and later, when he begins to speak, his thoughts are unflinchingly direct and honest.
He has participated in the Paralympics four consecutive times, and earned a long-awaited medal—bronze—in Rio. It's no wonder the people around him are excited, for what they hope will be his moment of athletic glory in Tokyo.
Not Takuro himself, though. Unfailingly calm and objective, he warns us of the negative effects this hyped-up, celebratory mood can have on the athletes as we move towards the Paralympics in 2020.
He tells us about his own limitations, the changes in the environment surrounding para athletes, and the future of para swimming in Japan.
In this interview, we ask Takuro, who had for so long as a child envisioned himself standing on an Olympic starting block, what he sees now, well into his career as a para swimmer.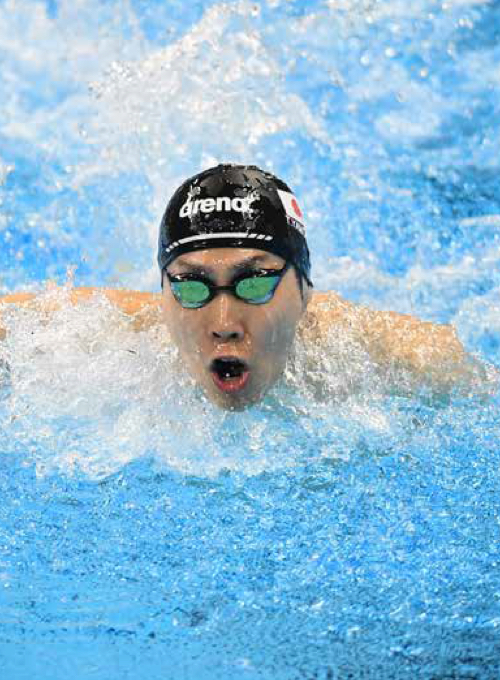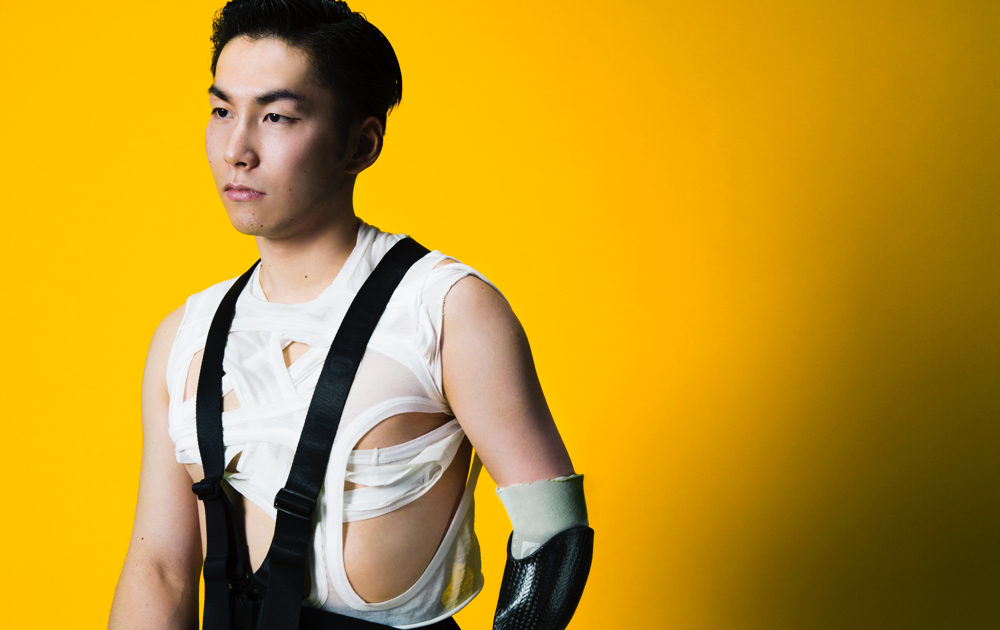 The Rio Paralympics, and the Gap Between "Feel" and Body
The Changes I Feel Now, as an Experienced Athlete
It's been about two years since you won the bronze medal in the Rio Paralympics. Tell us about your attitude and motivation as you go about your training.
My main goal is to compete in the Tokyo 2020 Paralympics, but obviously I still have a lot of races before I can get there. Right now, I'm just experimenting with different tactics to get better times—racking up experience points, if you will.
We heard you were training for the individual medley after the Rio Paralympics.
There've been some changes in the events and the athlete classifications in advance of the Tokyo 2020 Paralympics, and in fact, this season, most of us will have to be retested for our classifications. The events available for the S9 class have changed as well, which has changed my options. And after a lot of thinking, I've come to the conclusion that it would be best for me to concentrate on the 50m freestyle. Right now, I'm just trying to prepare so I can perform to the best of my ability in the 50m.
You won a bronze medal in the Rio Paralympics, but you said back then that you weren't satisfied with that result.
Of course, it wasn't a bad feeling to win a bronze medal. But I wasn't satisfied with my time. For the longest time in my training I'd been working towards a 25-second time, but despite feeling good on the day of the event, I wasn't able to perform as well I should have, like I wasn't able to fully capture the "feel" of the race. There weren't any big mistakes—it was just not being able to adjust for some minor things in the beginning, the wall touch at the end. You could argue that my time was still very good, given the circumstances and all that pressure, but I personally feel I could've done a little bit better.
You've competed in the past four Paralympics. Your times at the Rio Paralympics were the best out of all of these.
In fact, in my strongest event, the 50m freestyle, I even set a personal best. But there were disappointments too, like not being able to set personal bests in any of my other events, or not being able to perform as well as I thought I could in the finals, given my times in the preliminaries. At the Rio Paralympics I really felt a discrepancy between my "feel" for my performance, and my actual performance.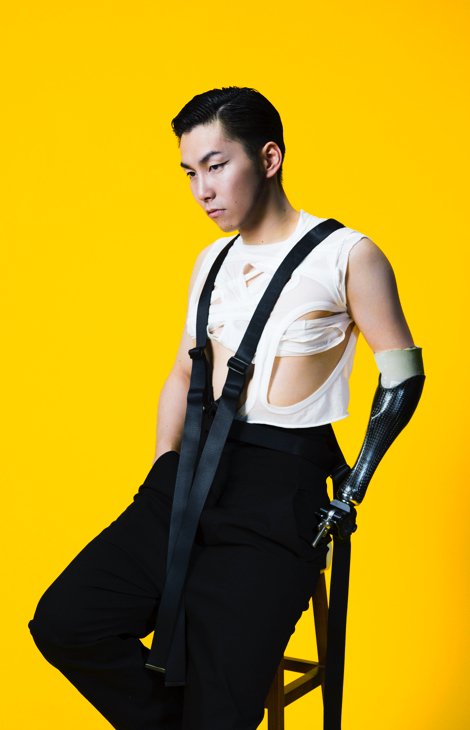 Discrepancy between your "feel" and your body. How do you solve something like that?
Huge, important competitions like the Paralympics tend to draw out the best performances from athletes, what with the atmosphere of the venue, and the nervousness you feel heading into an event. For a long time, without even really thinking about it, I was able to perform at my absolute best at these events. But now as I've gotten older, I've realized I can't perform as well as I should if I don't keep the proper control over my techniques and my physical strength, and improve the level of my performance as a whole.
You competed in the Paralympics for the first time when you were only 13 years, so career-wise you're already very experienced. At your first Paralympics, did you ever imagine you'd be here today, training for your 5th Paralympics in Tokyo?
At the time I was basically the youngest person to compete in the Paralympics, so I thought I'd at least set a record for the highest number of Paralympics competed in, or something like that [laughs]. But I can't keep going forever, both physically and emotionally.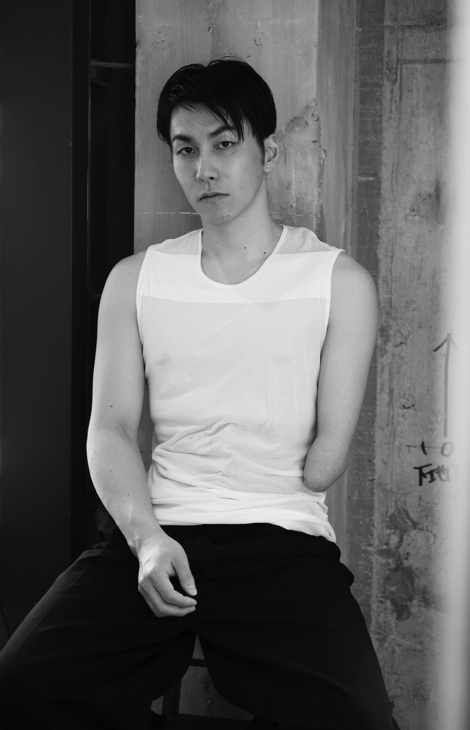 There are athletes in the Paralympics who are over 30 years old.
I think it really depends on the person, and on their class and event as well. My strength is in short-distance, and in terms of my body—my heart and lungs and physical strength—there shouldn't be that much of an effect as I get older. But I guess what's most important to me is my own skill, and a sort of accumulation of experience. My ultimate goal is to compete at a level that I'm satisfied with. The time to retire is when I feel I can't get any faster, that I've reached my limit. I'm hoping my peak competitive performance will be during the Tokyo Paralympics. If I don't get the times I want there, I may keep competing.
The Importance of Eagerness
When Competing at the World Level
You've competed in four consecutive Paralympics. Do you feel that there's more attention now on the Paralympics than ever before?
I personally feel that there was never enough focus on the Paralympics. And in fact, recently I've wondered—is this enough?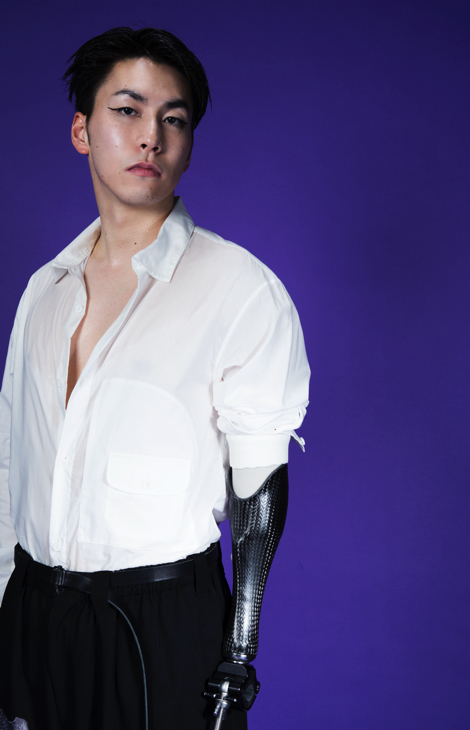 What do you mean?
Sure, there's more attention on the Paralympics, but in terms of recognition or even interest, I don't think very much has changed from how it's been in the past. There aren't very many opportunities for people to have the Olympics and Paralympics held in their own country, and so I hope that as many people as possible in Japan take this opportunity to tune into these events. There's something about watching sports live that conveys how fun and interesting it really is. And in that sense, as an athlete, I do feel a sense of responsibility to perform to the absolute best of my abilities.
Have you noticed any changes in the attitudes of the other athletes?
To be honest—not really. And to be very honest, I've noticed recently that many of the Paralympics athletes actually seem to have become less serious and less determined as athletes.
Oh, wow. We wouldn't have expected that.
Especially the Japanese athletes. Of course, athletes with disabilities all want very much to compete in the 2020 Paralympics—it'll be in Tokyo, on their home turf. But since the announcement that the 2020 Olympics and Paralympics would be held in Tokyo, the circumstances surrounding para athletes in Japan have changed so drastically. Before, their stance was that they would go out and fight for an environment to train, fight to improve their abilities, and fight for exposure in the media. Now, just being someone who could represent Japan in the Paralympics is enough to get them these things, and more. I don't feel the same sense of urgency in the athletes anymore. It gets worse when you consider that the level of athletic ability in the Paralympics, in every sport, is rising year by year. Just because you're good enough to represent Japan doesn't necessarily mean you're at a good enough level to compete with the world. I personally feel, actually, that there's a significant gap between the level of ability in Japanese para athletes and others throughout the world, and it's a gap that's only getting bigger.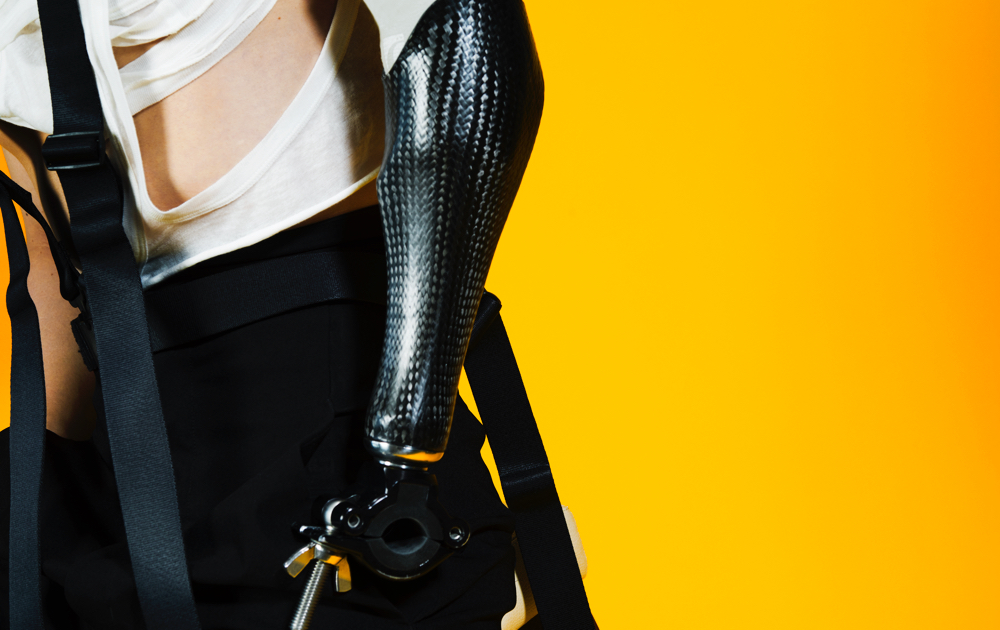 You feel they've lost their sense of eagerness, their will power, and that this has hurt their athletic performances.
To be perfectly honest, I don't actually think it's very difficult to be #1 in Japan, because there aren't very many competitive para athletes in the first place. Being #1 in Japan and competing at the Paralympic level are two entirely different things. I get the impression that many of these athletes are not as aware as they should be of their own abilities relative to the world, and are okay with doing just the minimal amount of work. You get more exposure, no matter your level of performance. Or the media does a feature on you, but—it's something that's obvious to people that really understand the sport, when something's not right. I understand the environment surrounding the Paralympics, and that there's pressure for people to hype someone up just because they've been in the Paralympics, but anyone who watches us compete knows somewhere deep in their hearts when something is truly incredible—disability or not. And their impressions of the athletes connect directly to their impression of the Paralympics. And in the long run, I don't necessarily think this is a good thing.
Have you ever communicated your feelings on this to the younger athletes?
Casually, yes, but I do feel a bit of a generational gap in our attitudes. There are many athletes who are good enough to represent Japan, but would not be able to compete in the final rounds of the Paralympics. To be able to compete on the world level, athletes have to have a more comprehensive understanding of their own abilities, including differences of age, nationality, and more, and hold themselves to the highest of standards. I don't feel it's good to offer young athletes too many opportunities, without them doing the work that's required for them.
A Past of Going Against Able-Bodied Swimmers
The Difficulty and Ambiguity of Training
You started swimming when you were three years old, and spent your time training with top-level able-bodied athletes—athletes that were aiming for the Junior Olympics. We suspect there aren't very many para athletes who've trained in such an environment.
That experience has been very important to me. Up until around middle school, I was seriously aiming for the Olympics. Even when I participated in the Paralympics for the first time in my first year of junior high, I thought it was a completely different world from the swimming that I did on a regular basis. It wasn't until high school, and the people around me started performing at significantly higher levels, that I turned my focus to the Paralympics. Until then, I'd performed at levels higher than the able-bodied standard. Obviously, there's much tougher competition in the world of able-bodied swimming, so training in that kind of environment was very stimulating and motivating for me. In Japan, there aren't very many para athletes in any class, but on a world level, my class—with its relatively light disabilities—has many athletes, and the level of competition is high. These athletes don't necessarily train differently, just because it's a parasport. Instead, what I see is that they incorporate training principles from able-bodied swimming, and that the athletes who are best able to incorporate these principles end up being the best athletes.
Are there training environments in Japan that allow able-bodied swimmers and swimmers with disabilities to train together?
No, not really. Now that the Paralympics are to be held in Tokyo, though, this is beginning to change, with a lot more universities open to accepting para athletes. But of course, able-bodied and swimmers with disabilities aren't able to train in exactly the same way, and there are obvious differences in swimming ability. So the reality is that a lot of these things are just for the look of it—all training in the same pool—and without much substance.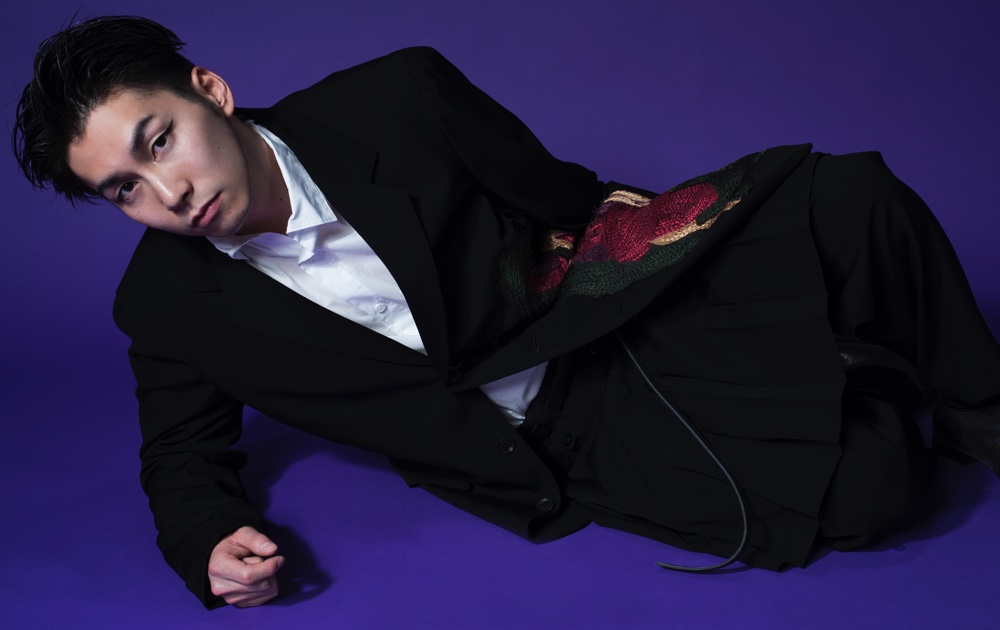 Was this the main reason you chose the University of Tsukuba—because you wanted to train in the same environment as able-bodied swimmers?
Yes. I'd already decided that I would commit to the same training as the rest of the team. I'm probably the first athlete in the history of para swimming that joined an actual team in a university and did all the training the other team members did. Looking back on it now, I see there were good sides and bad sides to this experience, but it was definitely something I had to experience for myself. All in all, I think I made the right decision to do what I did.
Good sides and bad sides?
The good side of this experience was getting to be among these athletes who were all facing such tough competition, and trying to compete at the world level. It taught me a lot of things, including how to handle the mental elements of the sport. There were also just so many hours of practice, and this practice would be with swimmers who were all good enough to have competed in the final rounds of the All-Japan High School Tournament. And this was practice for them to be even better. I was doing all the same things as they were doing, but with one less arm, and so even compared with foreign para swimmers, I think what I was doing was fairly intense.
The bad side of this was also the sheer amount of practice. Put simply, I was overtrained. I kept having aches and pains and injuring myself, which made it very difficult to achieve any personal bests, even though I was training so much. I tried all kinds of things in the four years I spent on this team, but my conclusion, looking back on it now, is that it was a bit different from what I'd imagined it would be. I did get a bit faster, since I did achieve a personal best at the London Paralympics, but still. All in all, though, I think this was a good experience for me. It allowed me to experience all these things first-hand, and had an impact on the way I trained after I graduated university.
Something you said that was striking to me was that there's no "right answer" in para swimming. You said each person has to come up with their own form, what kind of training is good for them, what muscles to work on, and that figuring these things out is very difficult.
Just the fact that I only have one arm means I'm unbalanced. With swimming, you have the added factor of water—how to decrease resistance as much as possible in this special environment, while also propelling yourself forward with a different form of resistance. In the end, no one knows exactly what they need to do to be able to swim the fastest. We're all looking for the answers. This is part of the reason why I wanted to go through the same training, the same hours of practice as my able-bodied peers—because I wanted to figure this out.
Do you have a good relationship with your coach, and are you able to talk to him about these things?
I started working with my personal coach, Naoki Takashiro, in the fall of 2015. He was originally the coach for Ryo Tateishi, bronze medalist for the 200m breast stroke in the London Olympics. I've personally always thought that athletes with relatively light disabilities, like me, don't necessarily need a coach that specializes in athletes with disabilities. I was looking specifically for a coach that had the experience and knowledge to help able-bodied swimmers beat their competition, and so I decided to work with coach Takashiro. He'd never coached a para athlete before, but neither of us were anxious about working together, and just as I'd expected, there weren't any issues at all. I think as long as para athletes are clear about what kind of image they have for their own swimming, and are able to convey this to the coach, there shouldn't be any issues. In fact, I feel the best method for improving myself is to come up with ways to integrate these images I have with the knowledge and data the coach provides for me. I feel in that sense that my training right now is very high-level, and I'm happy with it.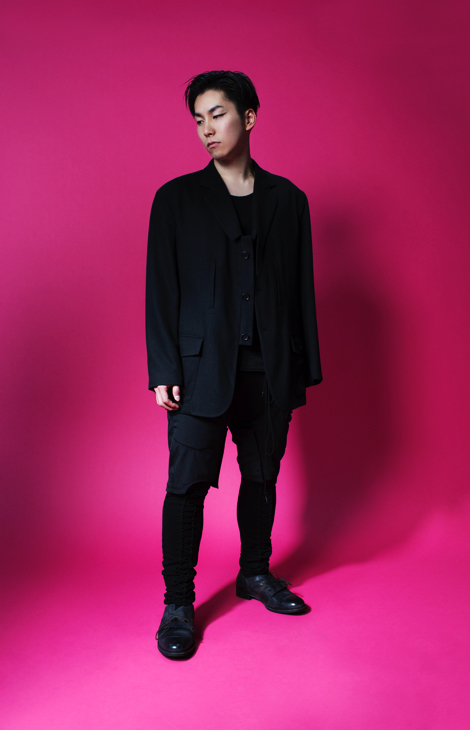 Going All in On the 50m Freestyle
Not Much Time Left Until Tokyo
Did you have an athlete you looked up to as a kid?
There was this athlete, Matthew Cowdrey, who was the #1 para swimmer in the world for a long time—from the Athens Paralympics to around the end of London Paralympics. He's in the same class as me, and competed in the same events, but he was just so, so much faster. I watched videos of him all the time. His time was just so incredibly fast in the first 15m or so, and unless I can find a way to make myself much faster at the start of the race, I won't be able to beat him for the rest of my career.
How important is the start of the race?
Swimming is different from track, in that there's no acceleration. There's so much resistance in the water that you're actually moving the fastest when you jump off the swimming block, and dive into the water. After that, it's just a gradual deceleration. To get a really good time, you have to learn how to prevent this deceleration, and also work to increase your speed in the beginning as much as possible, and keep this speed. If I'm able to do this, I'll move closer to my goal time. That's why if someone's time is better than yours at the beginning of a race, you won't be able to catch up to them, no matter how much you work on your endurance.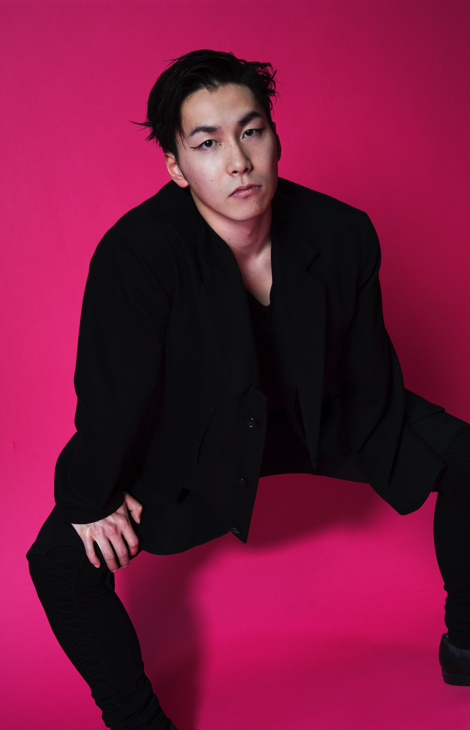 If the start of your races are your weakness, why did you choose the 50m freestyle? Isn't this the event that requires you to have the most speed at the start of the race?
My main event used to be the 400m, which was what I competed for in Athens as well. In Beijing, it was the 100m. So to be honest, I didn't actually like the 50m very much. But after going to college, my body changed—I bulked up, and my time in the 50m suddenly got a lot better, while I struggled with my times in the rest of the events. So I thought, why not narrow it down to the 50m?
As you got older, you started getting better times in the short-distance races.
The 50m fits my personality. My muscles don't necessarily point towards me being the sprinter type, but my personality definitely does. I get bored easily, and I don't like practice [laughs]. With the 400m, a big part of the training is just being patient, working towards this long-term goal, and practice can be fairly boring. Short-distance, in that sense, lets you go full out all of a sudden when you're doing well, and this seems to suit my personality a lot more.
And actually, the 50m has a lot of depth to it. You need power, obviously, but what's really important is skill—the skill to "use up" your sprint in the span of 50m, the skill to control it. I like the feeling of tension you get from knowing that missing even the tiniest little adjustments can mess up your race.
You're training to win a gold medal in the Tokyo 2020 Paralympics. How are you thinking of spending your summer of 2018?
It all comes down to getting my times down for the start of the one race I'll be competing in Tokyo. I think if I can just make that better, my times will get better too.
Two years seem like it goes by so fast in hindsight, but actually feels quite long [laughs]. I train in all kinds of ways, but they all do something to improve some aspect of my 50m race. As I train, I just want to learn to sense the little changes inside of myself, so I can get my "feel" and my physical condition to suit each of the races I'll be competing in.
Takuro YAMADA
Born in Hyogo Prefecture in 1991. Part of the NTT DOCOMO team. Born with a congenital deficiency of his left forearm. He has an S9, SB8, and SM9 para swimming classification. Began swimming when he was three years old. By elementary and middle school he was performing at a level to match his able-bodied peers, and began aiming for the Olympics. As a thirteen-year old, he competed in the Athens 2004 Paralympics. He has now been in four consecutive Paralympics, having since competed in the Paralympics in Beijing, London, and Rio de Janeiro. In the Rio 2016 Paralympics, he won the bronze medal (S9 class) for the 50m freestyle event. His current goal is to compete in the 2020 Tokyo Paralympics—his fifth consecutive Paralympics—and win a gold medal.