Koyo IWABUCHI
Table Tennis
Photographs by Gottingham │ Interview & Text by Senichi ZOSHIGAYA
Reaching for "More Than the Gold Medal"

Welcome to the Little-Known World of Para Table Tennis
At the Tokyo 1964 Paralympic Games, the men's table tennis doubles pair, Yasunori Igari and Fujio Watanabe, were the first Japanese para-athletes in history to win a Paralympic gold medal. Now, many years later, we will be looking at another table tennis player, who will be leading the Japanese delegation as the flag bearer during the Opening Ceremony of the Paralympic Games, which will once again be held in Tokyo. He is Koyo Iwabuchi, 26 years old. Unable to reach the podium at Rio 2016, he now returns to Tokyo 2020 stronger than ever before. He's the ace of the Japanese team and carries the hope of the para table tennis world. Is his goal the gold medal? No. It's more than the gold medal. Table tennis? No. It's para table tennis. What lies at the heart of Iwabuchi's efforts to communicate the appeal of this deeply intricate sport throughout Japan?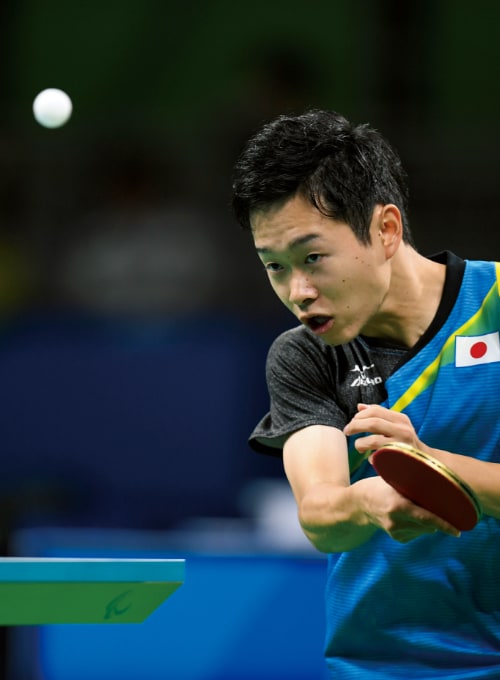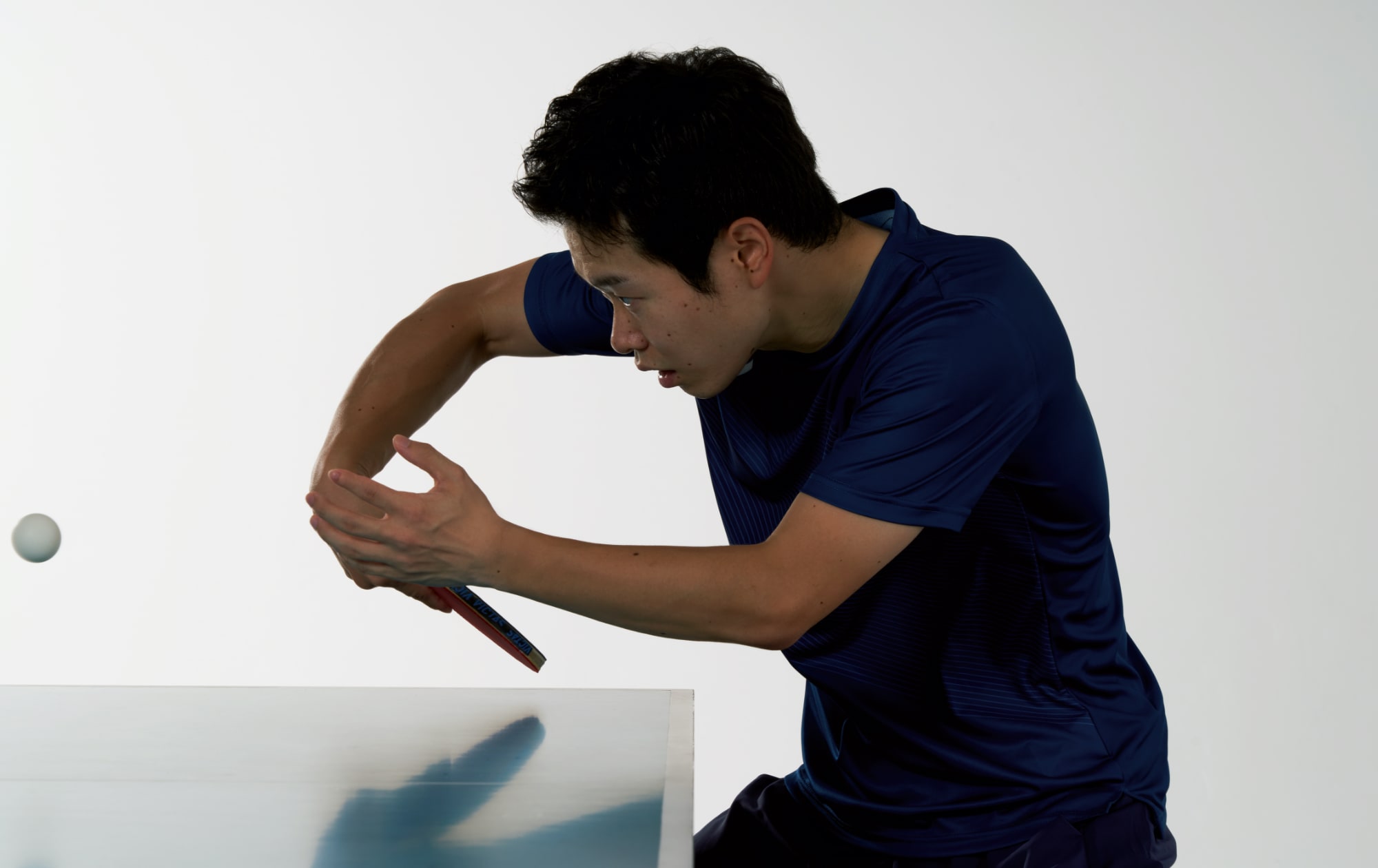 "The tried-and-true strategy is to keep striking at your opponent's weakness, which is their disability."
It's a straightforward answer, but one that is somewhat surprising to hear so bluntly from a person who has a disability himself. Koyo Iwabuchi is a member of the Men's National Para Table Tennis Team, the world's No. 4 player(as of July 2021)and a medal favorite at Tokyo 2020. As if anticipating my surprised reaction, he continues:
"What we aim to do is no different from any other sport that uses a racket. Once the match starts, we target our opponent's weaknesses and the areas where they have difficulty moving. That's what tactics and techniques are all about. On the contrary, deliberately avoiding your opponent's weak side because you feel sorry for them is disrespectful and unfair."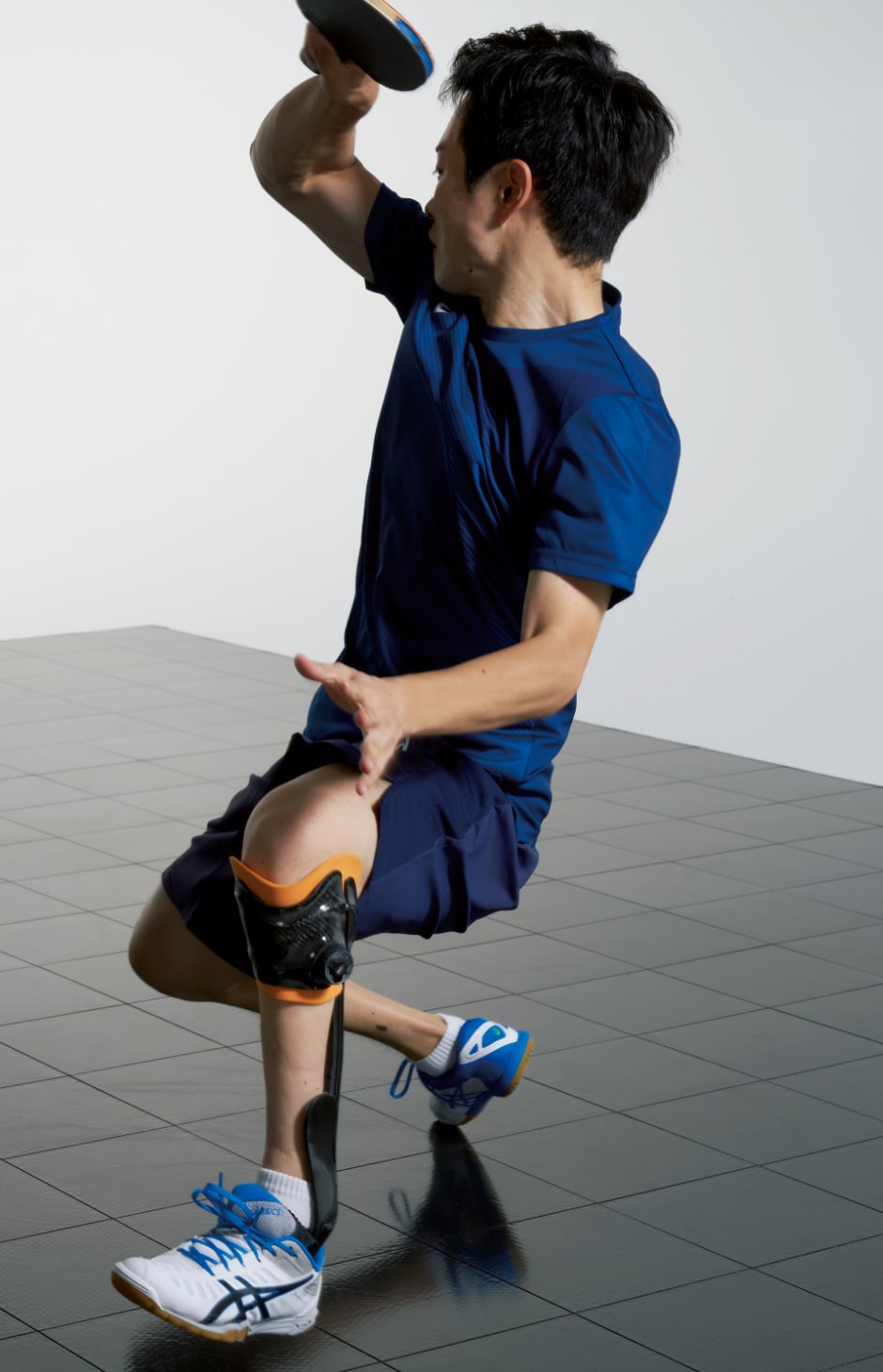 In other words, whatever the sport, when it comes time to compete and the athletes arrive on the court, they've accepted all the conditions that have been set out in advance. This may seem obvious, but when it comes to para table tennis, opponents don't always have the same type of disability. This presents a multitude of indeterminate factors, which is what makes the sport so interesting.
What does this mean? In many parasports, athletes are categorized into precise categories depending on the severity of their disabilities to guarantee fairness. They then compete in matches or for the best record within each of those categories. While para table tennis similarly categorizes athletes into classes depending on the severity of their disabilities*(see Editorial Note), it's not at all unusual to see, for example, a player who has a disability on their left arm competing against a player who has a disability on their right leg. As Iwabuchi puts it, "Even if two people have the same type of disability, the severity of their paralysis, for example, might separate them into Class 8 and Class 9. You can't generalize, which makes things harder.
* Para table tennis athletes are categorized into Classes 1 through 11 depending on the type and severity of their disability. Classes 1 through 5 are for wheelchair players and Classes 6 through 10 are for standing players. Smaller numbers indicate greater disability severity, while larger numbers indicate lighter severity. Class 11 players have intellectual disabilities. Furthermore, depending on the class, some rules may differ from table tennis for able-bodied athletes. For example, standing players may use crutches instead of prosthetics or orthotic devices, and players who have difficulty making the serve toss according to regulations may serve without opening their palms.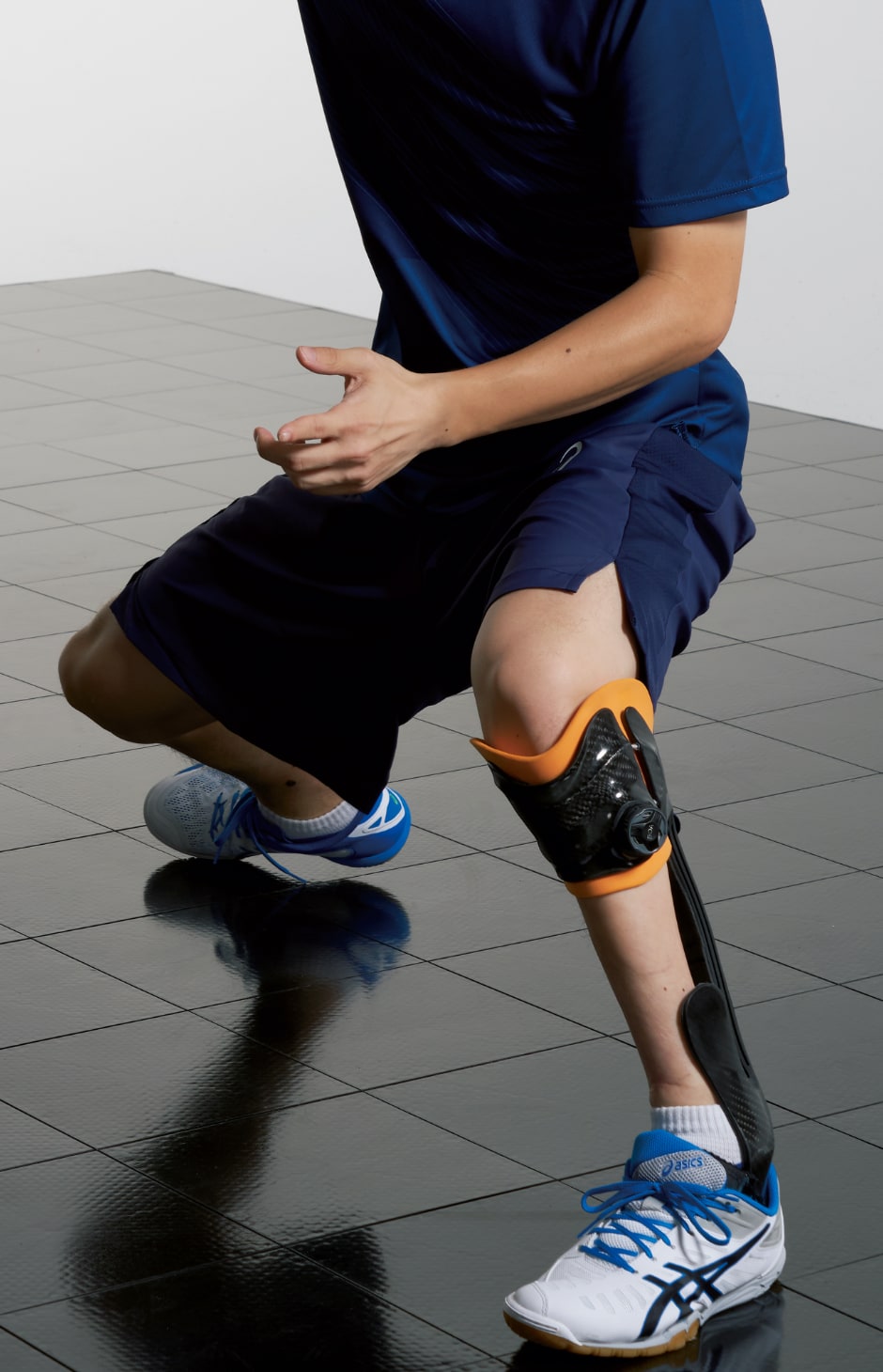 Yet, the size and height of the table tennis table, racket regulations and all other rules are fundamentally the same as table tennis for able-bodied players, with only a few special exceptions established for some of the classes. So under these circumstances, disabilities are simultaneously a player's weakness as well as their uniqueness. This asymmetry between the opponents is clear to see, and this is what makes the sport more advanced, more complex and more likely to create awe-inspiring spectacles. Para table tennis is different from sports like athletics and swimming, which pursue individual times. Neither is it comparable to sports like wheelchair rugby and football 5-a-side, in which teams compete against each other by supplementing different disabilities. The defining element that makes para table tennis so interesting is none other than the players' disabilities.
"People who know a lot about table tennis may be able to recognize the tactics and strategies being used during table tennis matches for able-bodied players, but people who aren't familiar with the sport may not understand. In that sense, para table tennis players have visibly recognizable disabilities, so I think the people watching can guess what sort of shots would give them trouble. If you pay attention to how the players target their opponents' weaknesses and how their opponents fight back, I'm sure you'll find para table tennis very interesting to watch."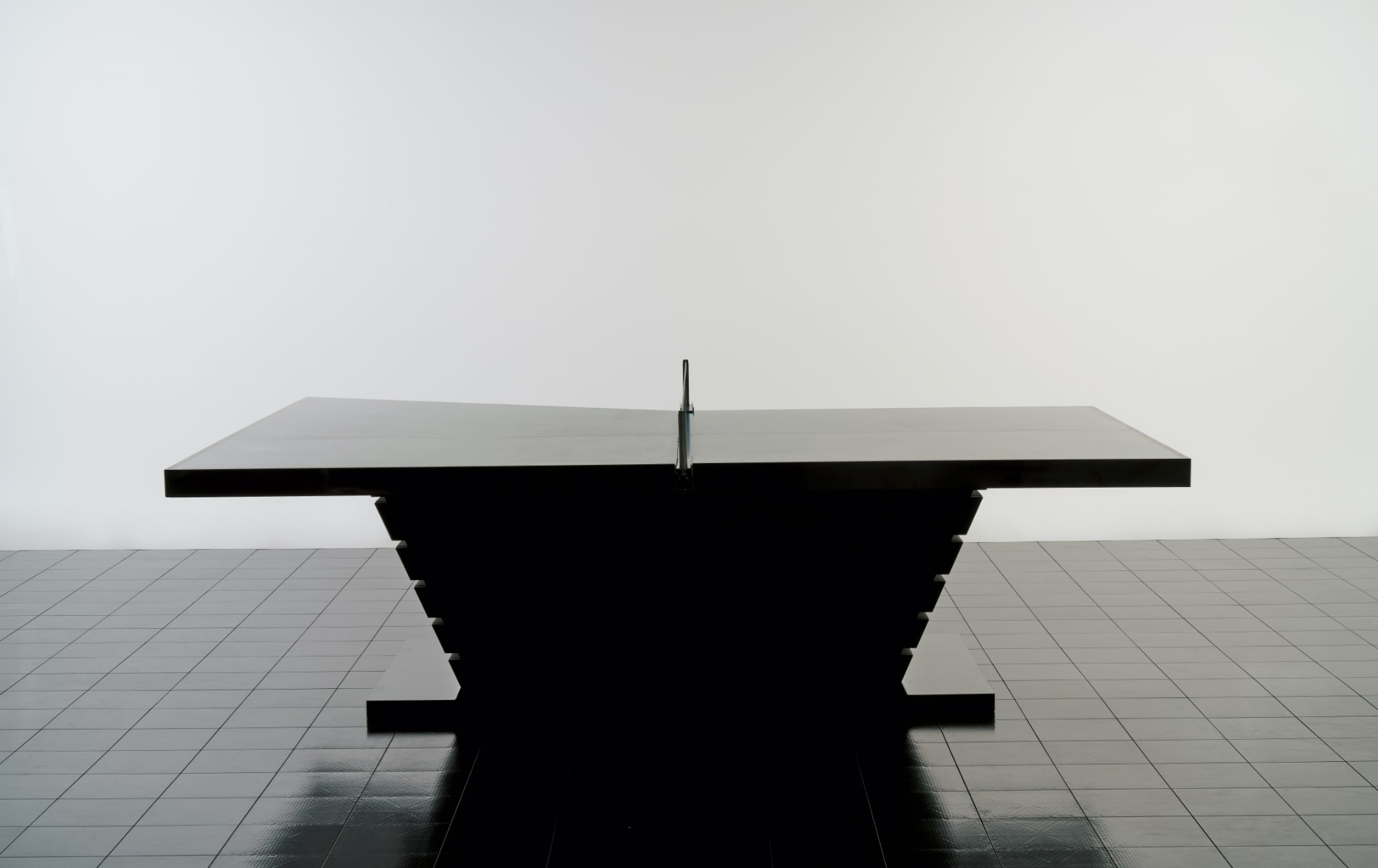 * The PARA PINPONG TABLE used during the interview's photoshoot was designed and created to reflect how para tennis table players perceive the table tennis table due to their disabilities. This table, titled IWABUCHI MODEL, has an enlarged left side. It expresses Iwabuchi's disability of being unable to move his left ankle, which makes it more difficult to move to the left side of the table, making it feel further away.
There's an intensity in para table tennis that doesn't exist in table tennis for the able-bodied. Iwabuchi says this with confidence, because that was what drew him into para table tennis to begin with.
Iwabuchi began playing table tennis in his first year of junior high school when he joined the school's club. Because he was born with mobility disabilities in both legs, limiting the movements of his ankles, he needed to wear orthotic devices to play. Nevertheless, he trained together with his able-bodied teammates and participated in competitions. He also joined a club team outside of school, and when he was in his third year of junior high school, his coach there told him about para table tennis. Out of curiosity, Iwabuchi decided to participate in a competition.
"The way the para-athletes moved and used their bodies was totally different from what I'd seen able-bodied players do until then. It was difficult to predict their moves. When I thought they'd hit a cross ball, they'd hit straight, and when their stance looked like they'd hit a strong ball, it would be super soft. The timing, the course, the ball's strength…they were all hard to predict, and I was stunned by the unexpected ways they'd hit the ball. When I looked closely, there was even a player who used a very defensive rubber (a kind that able-bodied players would never use) that deliberately killed the ball's speed and bounce so that they could control the flow of the game. I was just struck by the sheer range of strategies I saw and was so overwhelmed that I couldn't do anything. That was my first experience playing para table tennis."
Incidentally, until that competition, Iwabuchi hadn't considered himself to be a person with a disability. For the first time in his life, he went to receive a physical disability certificate so that he could sign up for the competition.
Today, Japan is a prominent table tennis nation. One of the best in the world. Whenever an international competition is held, no one has any doubt that Japanese athletes, both men and women, are top medal contenders. I'm sure many people have experienced sitting on the edges of their seats to watch a table tennis match on TV, captivated by the sport's intensity and the high-speed rallies that are almost too fast to follow. According to Iwabuchi, players keep up with that speed, not by "reacting" but by "predicting." Unless you can predict where your opponent will hit the ball before they swing, you can't hope to compete against the speed of top-level players.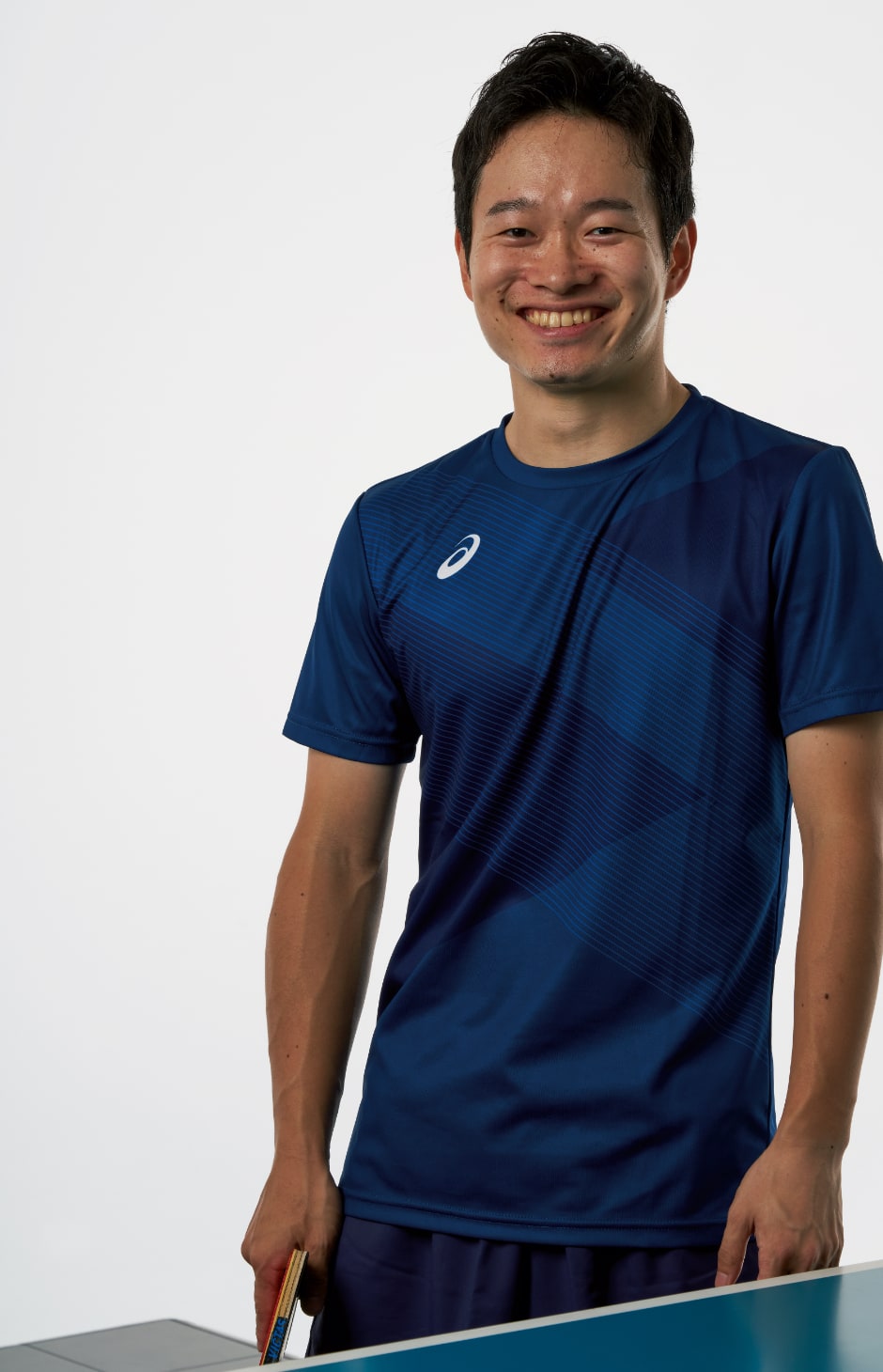 In the case of para table tennis, however, those predictions are often disrupted by the athletes' different physical characteristics and unique playing styles. Since both players can see each other's disabilities, an even higher level of predictions, feints and elaborate strategies are required to rule the court. Iwabuchi was immediately drawn to this deep and complex aspect of para table tennis.
"Although I said we need to keep striking at our opponent's disability, if we do the same thing over and over, they're going to get used to it. So the situation constantly changes during a match. Once you start playing, you can tell what kind of habit your opponent has, but the question is, is that habit something that comes from their disability, or is it something they're doing deliberately? Your opponent knows that their disability is their weakness too. So if we can't correctly discern whether the habit is natural or a feint, they get the upper hand. Conversely, if we read them correctly, gain the upper hand and control the flow of the game…I don't think anything beats the thrill of that moment. It's what makes the sport so fun."
The more Iwabuchi analyzes his opponents, the more they analyze him, too. In other words, the stronger he becomes, the more scrutiny he receives and the more rivals he gains. He has competed against the top-ranking players many times so far, but even when faced with the same opponent, they change the way they play each time. So a strategy that worked before may oftentimes be worthless in the next match. Since 2020, hardly any competitions have been held, either in Japan or abroad. That has hindered Iwabuchi's ability to gather the latest information on his rivals, and he only has limited video documents to rely on. Furthermore, in 2021, the regulations for classifying athletes were revised. As a result, Iwabuchi may face powerful opponents at Tokyo 2020 who had previously been in different classes and against whom he has never played.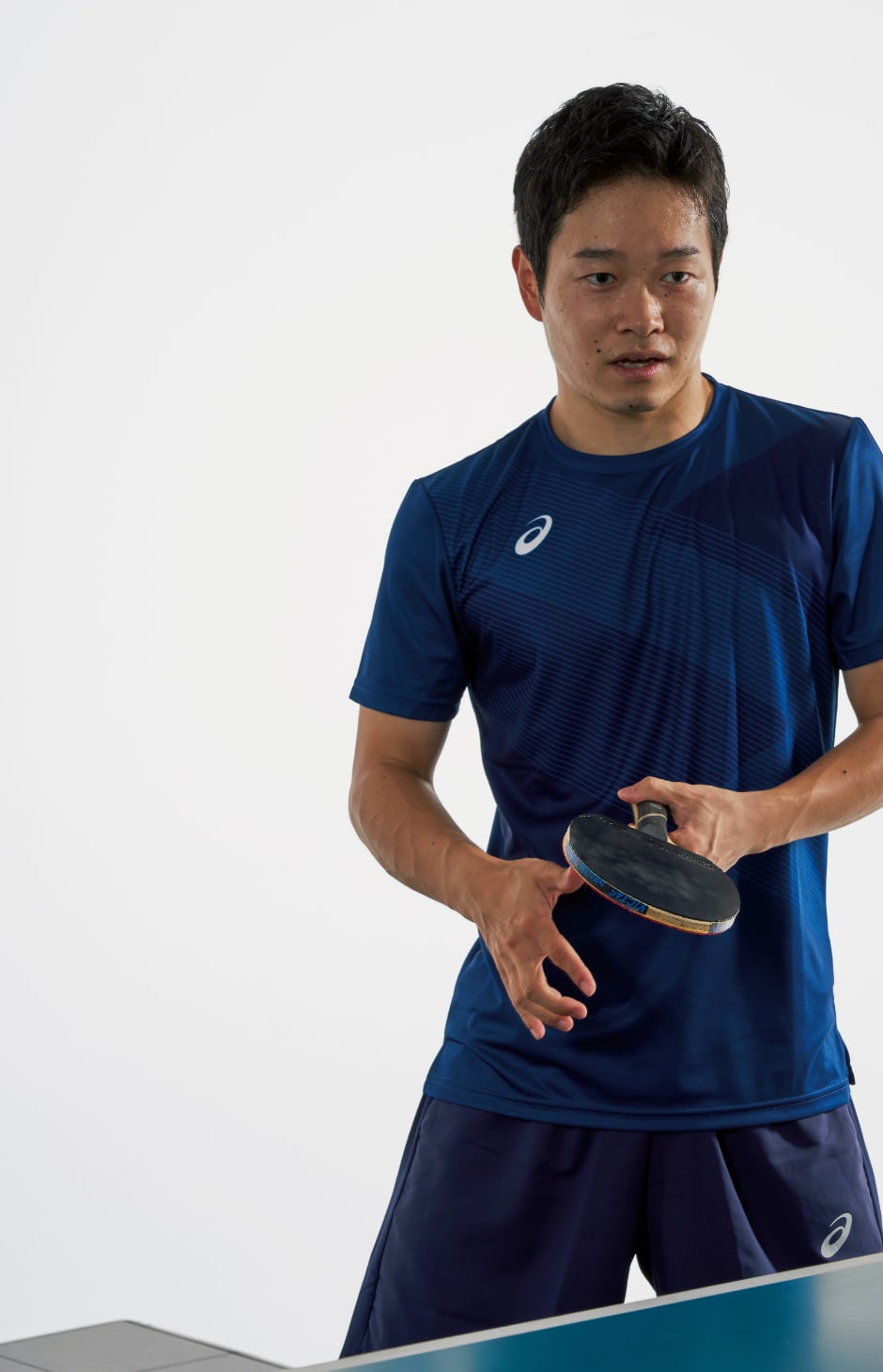 "Until now, my game plan was often to win by throwing my opponents off with my serve. But recently, my opponents are starting to predict the way I serve, so it's not as effective as it used to be. So for Tokyo 2020, I have a few secrets prepared, or rather, aspects of my playing style that I've changed drastically. In order to win, I need to work on my ability to adapt so that I can get used to being in situations where anything can happen."
Even before the first match begins, the battle to win at Tokyo 2020 has already begun.
In 2020, Iwabuchi created a YouTube channel. He uploads videos from time to time on a variety of different subjects, such as talking about his disabilities, providing commentary on past matches, showing his regular training routine, and and holding meetings with fellow members of the Japanese national team on how to promote para table tennis. It goes without saying that Iwabuchi started these activities that go beyond the sport because he wanted to reach out to as many people as possible, get them interested in para table tennis and encourage them to watch the sport.
Of particular interest are the videos in which Iwabuchi reviews his past matches and introduces the world's top-ranking players who he considers his rivals at Tokyo 2020. Among them are the top two players in Class 9: Laurens Devos, No. 1, a representative of Belgium who also competes in competitions for able-bodied players; and Lin Ma, No. 2, formerly a representative of China and a gold medalist, currently representing Australia. Iwabuchi explains what makes these two athletes so strong using expressions that even a beginner can easily understand while also incorporating humorous comments from an athlete's point of view.
"See, that ball's half dead, but it's effective. Isn't that interesting?"
"He's someone who rises above and beyond para table tennis."
"That ball was meant to go down the middle, but sometimes it doesn't go down the middle. That's because para-athletes use their muscles differently."
"(Even though he has a limb deficiency) it looks like the hand is there."
Iwabuchi considers this sort of communication just as important as engaging in the sport. He hopes to provide insight into what the players are feeling during matches and the thoughts that are going through their heads as they play. He feels it's all the more important now to provide these sorts of opportunities to get to know para table tennis because there are so few opportunities available to watch competitions.
It's not just YouTube either. Last November, worried that COVID-19 would deprive Japanese table tennis players of competition experience, Iwabuchi organized an exhibition match named after him: Iwabuchi Open. It's extremely unusual for an active para-athlete to personally negotiate with sponsors and organize a competition.
"I want to create a lot of opportunities that can get people to watch and become interested in para table tennis. Japan only hosts serious tournaments twice a year in March and November, but even those were canceled last year. Of course, I wanted to compete myself, but I also wanted people to watch us play. So we organized the competition while making sure to implement strict measures against COVID-19. After all, a lot more goes on inside the venue than what I can communicate through a video."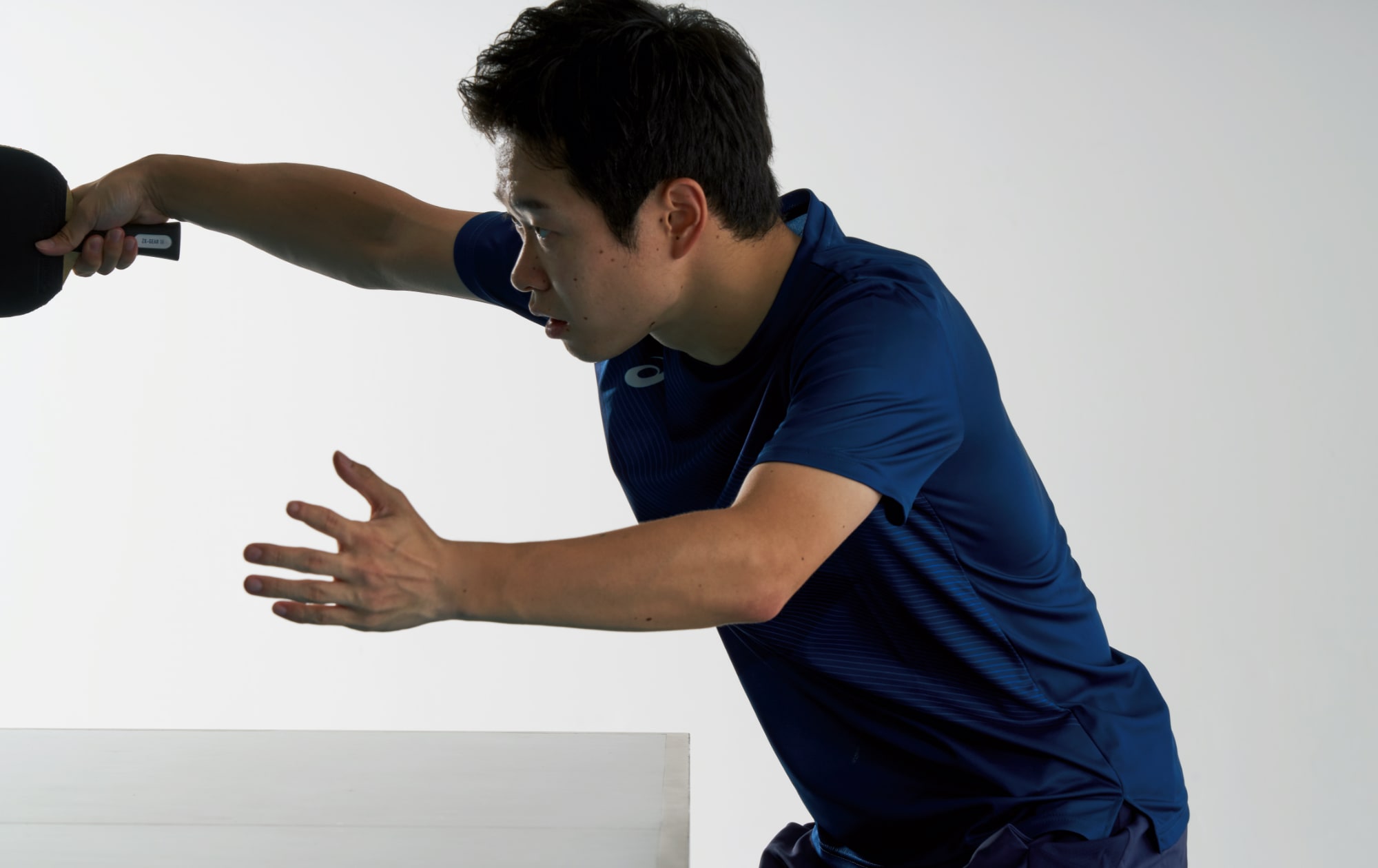 Videos can't capture the entirety of what goes on in the venue, which is why Iwabuchi urges people to watch the sport live at the venue. This is what he wants to communicate the most. As we have described so far, para table tennis is so interesting because it features athletes with different types of disabilities competing against each other. Athletes with all sorts of individualities gather at competition venues. Being there allows you to experience what competition videos don't capture, namely the moment when the para-athletes make the transition from daily life to competition.
"A lot of people see us only when we're playing table tennis and say we look no different from everyone else. They say things like, 'I can't tell where your disability is.' That may well be if you only see us playing. But when you're inside the venue, you can see how athletes with different disabilities go through their daily lives. From how they prepare themselves before the match to the way they usually walk, from light disabilities to heavy disabilities, you can really see how each person is different. But the moment they step onto the same court, they execute amazing moves and techniques. The first time I went to a tournament overseas, I was struck most by how different the athletes were on and off the court. I want to convey that world that I experienced, just as I experienced it, because I believe that's what will help create this parasports culture."
A few days before this interview, Iwabuchi was selected to take on the honorable role of being the flag bearer at the Tokyo 2020 Paralympic Games Opening Ceremony. With great resolve, he will represent the Japanese delegation and walk at the head of the group. Nevertheless, his long-held goal of achieving "more than the gold medal" will not culminate at Tokyo 2020. Iwabuchi believes, more than anyone, that continuing to move forward is what creates the future, and he believes in the possibilities that the future holds.
Koyo IWABUCHI
Born in Tokyo in 1994. Iwabuchi represents Japan in para table tennis (Class 9, Standing). He was born with constriction ring syndrome, which caused his feet to be constricted from the ankles down, as well as a condition known as talipes equinovarus (congenital clubfoot), which caused his feet to point downward and inward. He engaged in sports from a young age, playing soccer, baseball and golf and going skiing. In junior high school, he started playing table tennis. In his third year of high school, he began to participate in international para table tennis competitions. His outstanding results both domestically and internationally led him to Rio 2016. His goal for Tokyo 2020 is "more than the gold medal" and he will be the flag bearer during the Opening Ceremony. He is a member of Kyowa Kirin Co., Ltd.